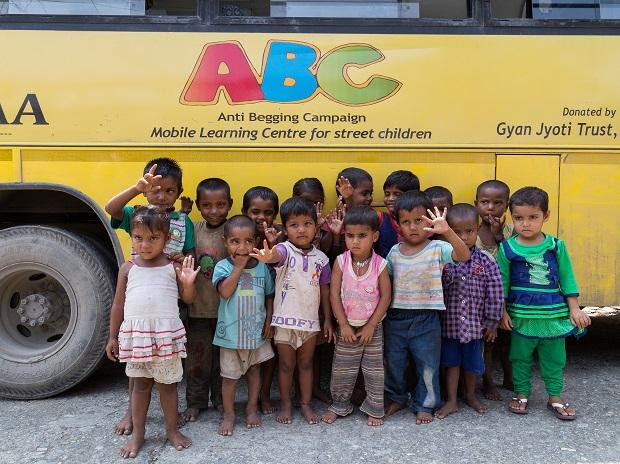 Photo Courtesy: Susan Blick
Hope is an alien concept if you are born a child in Dehradun's Bindal slum lining the side-banks of the unpredictable Bindal river in the city. Your parents are mostly daily wage labour working at construction sites. In many cases, the father is addicted to alcohol and unable to function. Parents – if both are working – leave for work early morning. The eldest female sibling is left to fend for the younger ones. Food is a luxury. A lot of the earnings – meagre to begin with – are spent on alcohol and it's not uncommon for women to drink either. Addiction to whiteners is found among children as young as 5-6.
Your surroundings don't offer much hope either. Filth is your mainstay. Children of all shapes, sizes and ages – unkempt and unattended – scamper around barefoot along with stray dogs and pigs, begging or making their way to the closest temple to find a meal. Garbage heaps abound, drain water overflows, the smells make you sick and the shanty dwellings look shaky as paper. A heavy rain and you may lose your dwelling to the spate of the rising river. Nurture is a concept alien to most and nature is something you learn to fear.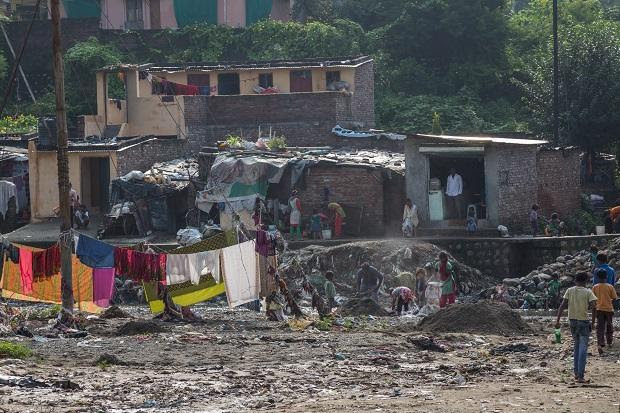 Photo Courtesy: Susan Blick
It was November 2008 when the word hope made its first intrusion in Bindal slum. Shaila Brijnath (returned to India at the age of 44 after 40 years overseas) came across a couple of women who were trying to teach a bunch of around 30 kids in a disused car parking and decided to plunge in. Brijnath, now 53, had left behind a financially rewarding but "soul-destroying" career as a stock-broker in New York, Paris and London. She had her own savings having earned "absurd salaries" for years but there was also support in terms of a family trust – Aasraa – set up by her parents in Dehradun to do precisely the kind of work she had in mind.
Out Of Difficulties, Grow Miracles
– Jean De La Breyere
Brijnath, who chairs the trust now, soon changed the face of the disused parking and had a small but efficient teaching operation in place. Realising how deeply malnourished the children were, she started using hot milk and bananas "as a bribe" to lure kids, a strategy they deploy even today.
At around the same time as Brijnath was consolidating her own initiative (the disused parking had grown to house 130 kids), Neelu Khanna, now 60, had been offered a "Rain Basera" in the centre of Dehradun city to use during the day to teach street children.
She and a co-worker had started out by teaching around 15 street kids on the pavement of a busy street, much to the bewilderment of residents, pedestrians and the children themselves.
Photo Courtesy: Susan Blick
But even with a small number of children, Khanna faced two huge barriers to overcome. Winning the trust of street children and second getting the street children to leave their territory. The latter sounds rather simple when compared with the first but isn't.
Across the pavement was Gandhi Park, one of the largest parks of the city with trees and grass to sit on but the children refused to budge. "Street children are so territorial that we couldn't get them to cross the street". Initially despite the torrential rains, they refused the Rain Basera, saying it felt like a "jail". But the only thing stronger than fear is hope and slowly but surely the children began to trust Khanna.
Whatever his reasons, God – who had so far looked the other way – must have been smiling upon the children at the time because a chance meeting occurred between Brijnath and Khanna – something that would change the fortunes of 1800 street and slum children in Dehradun. What started out with 150 children at inception in 2009 now encompasses 1800 children across 17 total projects in the city. The trust now has 140 full time staff.
When Rita, now 11, was 5, she spent most of her days playing near a shop in Chabil Bagh, a slum cluster where she lived. Her mother works as a cleaner in a few houses and her father is a stone-cutter. With four brothers, her parents couldn't afford to send her to school and being a girl she was more useful at home. After much persuasion, Aasraa's outreach team managed to put Rita in their Shiv Sena center in Bindal slum area and recently the bright young girl was main streamed into Purkal Youth Development Society (PYDS), a CBSE school in the city that many locals consider better than the best local schools. She is in remedial classes but doing very well. Her life has changed forever and even though Rita still does a lot of household chores and cooking, she loves her studies and is looking at a future she could never have imagined. The Aasraa team is working to convince the parents to allow her to stay in the school residential facilities so she can concentrate better on her studies.
Rita is one of the 19 children from Aasraa who have joined PYDS. 5-6 of their girls – originally rag pickers – now attend Guru Ram Rai school. Many of the rag pickers continue to do their work starting their day at 4 a.m. and finishing their chores by the time school begins for the day. In this manner, over the last 8 years or so, 516 children have been "mainstreamed" by Aasra; they now attend regular government and private schools in the city.
To start with, the Aasraa teams pulls children off the street and introduces them to the concept of basic literacy – Street Smart – and readies them for school. At the Shiv Sena centre (there are two centres in Bindal and one at ISBT), around 75 children come in daily and are taught by three teachers. A crèche for the very young at every centre allows the older siblings to attend.
A large TV screen in one corner is teaching the children colour identification with a simple programme developed for their age. When this writer visits, the children's attention wavers for a bit but all eyes are soon back on the screen. Most have never seen one and certainly not one this large. Television with its vivid images, the teacher explains, is what they look forward to most. There are two female helpers who look after the children, taking them to the toilet and looking after their general well being. Twice a week, their hair and nails are examined and cut.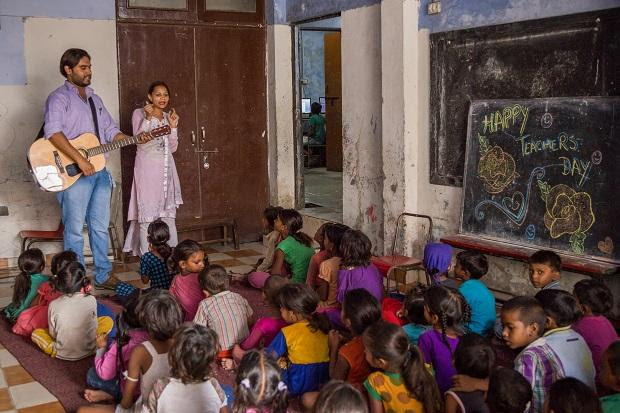 Photo Courtesy: Susan Blick
Although the main aim of Aasraa is to educate slum, street children and rag-pickers and give them a life worth living. But "we can't educate in isolation. If a child is cold, hungry, sick or scared, how can he or she study?, says Brijnath.
So, as Aasra expanded it has kept its eye on nutrition, vaccination and inoculation (the Max group has done these for free), medication, de-addiction, clothing and care that they cannot or will not see at home. Close to 1100 children are fed by the trust every day through an external kitchen. They aim to start a centralized in-house kitchen soon. Four shelter homes provide a place to live for 300 children who are either orphans or abandoned.
Eight centres – premises that local schools have offered for free – are used to run a massive after school tutorial and homework support programme with over 1100 children; this has around 900 Aasraa children but it also allows government school children who receive a very poor quality of education to benefit from it. There is a open school NIOS centre – the first accredited centre in the city – for children who are too old to join the regular schooling programme but who nonetheless want to study or do vocational training.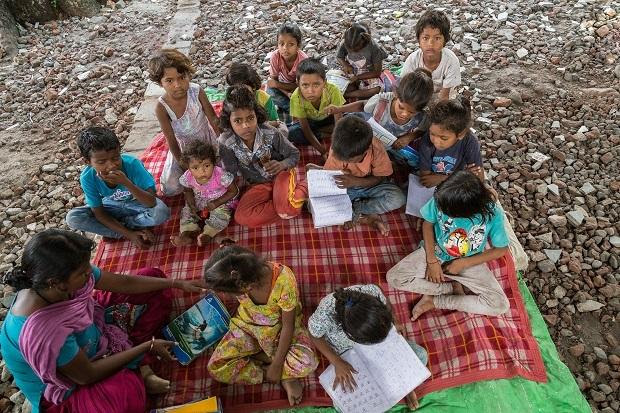 Photo Courtesy: Susan Blick
Four mobile vans target children who are begging. These are mostly children who are not permitted by parents to leave a certain area but where Aasraa doesn't have a centre. The children are left out all day to beg and bring in their earnings every day. On finding these children, Aasraa staff and outreach team actually visit and meet the parents to explain why the children should study instead of begging. Nine out of ten cases, parents relent.
But what is delightful to see is the frantic outreach programme that tries to reach "every possible child we can help". In other words, if you are a street kid in Dehradun who is spotted by one of the Aasraa members, chances are someone will track down your family and pull you into their fold. No child is too much trouble for the outreach team. Even if it takes a few months and several meetings with parents to convince them to allow their children to study instead of beg or while their days away, they are undeterred.
On the side of it all, there have been numerous other drives and activities they have organized. When Brijnath started working with the Bindal children, she found a large number of them were addicted to white spirit inhalation. "You could look into their eyes and see it. They would "hello" in this sing-song manner and sniff a cloth all the time". The children were totally neglected with "no view to the future". So Aasraa initiated a series of street plays for de-addiction to drive home the message to the children.
But scope seems unlimited as the organization tends to react more from its "heart than its head". So, the trust ends up taking on all kinds of children far beyond the purview of their regular work. Recently when they found 11 year old Shivani, gravely ill, malnourished (20 kg at 11 years) and abandoned at Doon hospital, they took charge of her, moved her to Synergy hospital, got three surgeries done on her, saved her life and have taken her into their shelter home, although she is confined to a wheelchair. Shivani is now studying and very much a part of the Aasraa family.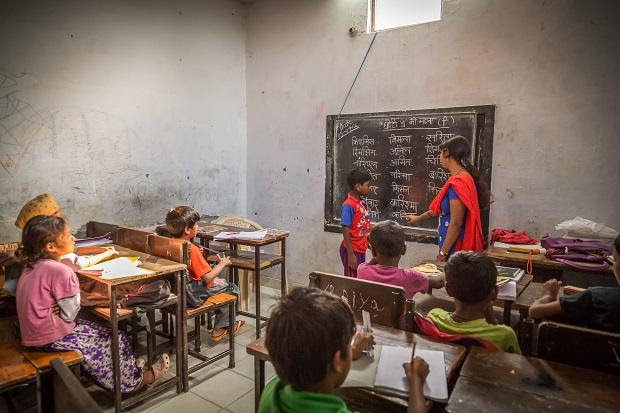 Photo Courtesy: Susan Blick
Although Aasraa is currently restricted to Dehradun, support for its work has poured in from all over the world. The patrons of Fundacion Heres (a Spanish foundation) – who have visited thrice – recently bought the trust their first owned property in the Bindal area. Previously, they bought them large TV screens, computers, a van, scooters and photocopiers. Recently, Susan Blick, a New Zealand based Australian photographer, found them on social media, came to Dehradun for the first time in September 2016 to see their work, took a series of stunning photographs of the children and used them to raise money for Aasraa in New Zealand. Blick says she is happy to see that "the staff aren't flying around the world and addressing talks on how to break the poverty cycle". Instead, they are "just doing it".
Within India too Aasraa has found support from both foundations and private donors. Suhel Seth, managing partner of Counselage India, has been supporting them for years and while he is yet to visit, he says "its heart-warming to see the kids off the street and with an equal chance for the future".
It's not as if they succeed with every child and every project. "Failure is part of it. Some kids have attitudes that have developed and are hard to change. And rather than letting one bad apple in, we prefer to accept defeat", explains Khanna. Sometimes projects too start with gusto but fizzle out due to lack of vision, planning or funds. "But for every door that closes, a new door opens", adds Brijnath, an eternal optimist, always brimming with energy.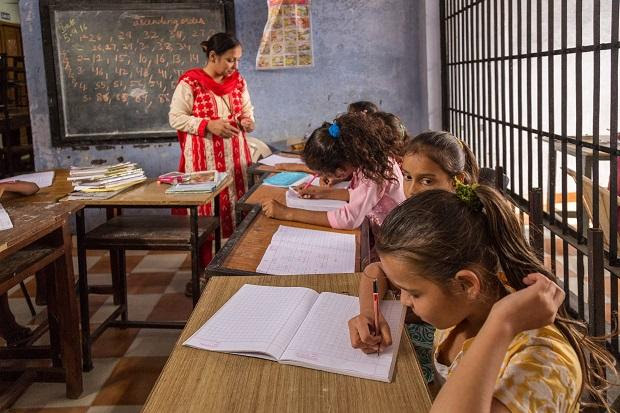 Photo Courtesy: Susan Blick
If Aasraa has changed lives for hundreds, it has managed to do so for its two main pillars as well. Khanna, a cancer survivor and a mother of two, is finally working closely with the street and slum children she wanted to all her life while Brijnath, unmarried but with "1800 children" has found a new meaning to her life that New York, London or Paris could never provide.
This article first appeared in the Business Standard and was originally written by Anjuli Bhargava on Sep 29, 2017.