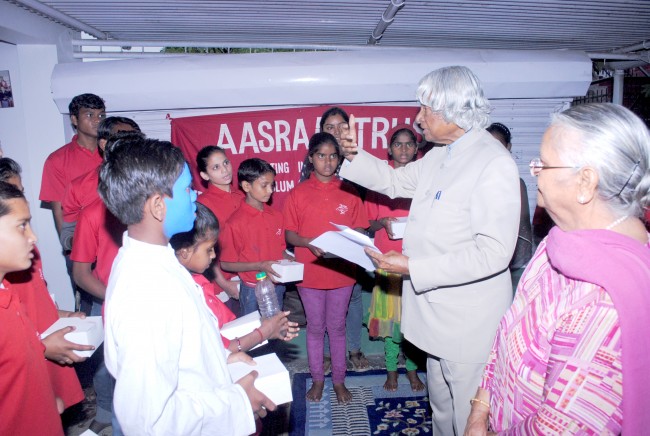 Our children were very fortunate to meet Dr. A P J Abdul Kalam, former President of India during his recent visit to Dehradun… Here is a segment from his blog……..
On the way back, I visited Dr Dhirendra Sharma and his wife Nirmala's home "Nirmala-Nilay". Their AASRAA Trust is involved with Street Children group activities taking care of their health, welfare and education. The Trust is run by a group of socially concerned ladies. I interacted with the children over there and the children took an oath "I can do it", "We can do it" and "Nation will do it". Before leaving, a student recited a beautiful poem in Hindi "Ganga pe aanch aayi hai – Ganga bachaaiye"
With best wishes,
Kalam
To read the whole blog please click on this link: http://givinglight.in/?p=416
Dr.Kalam's message of being strong citizens and being part of and responsible for creating and sustaining a great nation captivated the children.  Dr.Kalam infused hope in our marginalized slum and street children, when he reiterated Aasraa's dream –  with guidance, education and love  each child has the potential to be a  future leader.
Dr.Abdul Kalam's interaction with our children during his recent visit to Dehradun.