Trustees and Advisory Board
Aasraa's Board of Trustees
Shaila Brijnath, Chair
Shaila's degree is in Education. She worked as a European Equity Trader in London Paris and New York. She was a member of the New York and London Stock Exchanges. She left Investment Banking to follow her dream of returning to India to work with underprivileged children. She founded the Aasraa Trust in 2009 to educate and nurture slum and street children.
Neelu Khanna, Secretary
Neelu, a qualified teacher & travel trade executive, left the corporate world (Singapore Airlines) to pursue her dream of working with the under-served.  A social activist for the last 20 years, she is working for educational opportunity for economically deprived children. Based in Dehradun, she organized cancer screening camps for the underprivileged, (with the Rajiv Gandhi Cancer Research Institute, Delhi)  volunteered with Raphael for 3 years and now supports several projects which work with children from poor backgrounds. A Trustee of  The John Martyn Memorial Trust, she supports Udayan Care as a core member of the team at Dehradun.
Neelu co-initiated Street Smart, a project of Aasraa Trust which fulfills the educational, nutritional & medical needs of 2150 street and slum children.
Neelu is a Board Member of the Welham Girls' School.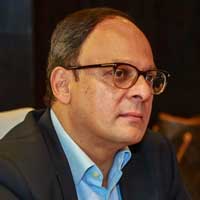 Mr.Rahul Bhagat, Trustee
Recognised by The Asian Banker on their List of Leading Practitioners, Mr Rahul N Bhagat is a versatile Consumer Banking professional with over 3 decades of experience.
Mr Bhagat began his career at ANZ Grindlays Bank (1989-1997) before joining Bank of America as Vice President (1997-1999); then HDFC for 16 years as Country Head – Retail Liabilities, Marketing & Direct Banking Channels and in 2015 and was appointed by Vodafone India as CEO (designate) of their proposed Payments Bank in India.
During his extensive banking career, Mr Bhagat's contribution and leadership has been recognised through invitation to numerous Boards and Committees, including: Standing Committee on Retail Banking, Indian Bank's Association; Executive Committee – National Securities Depository Limited; Customer Global Advisory Board, NCR Corp (USA); Global Advisory Board, Diebold Inc (USA).
Mr Bhagat is actively involved in the fields of Education and Heritage Conservation. He is a Member of the Board of Governors of The Doon School and a Founder Director of the World Monuments Fund India Association. He also serves as an Independent Director on multiple commercial boards and uses his experience to invest in and mentor early stage Fintech and Retail focused entrepreneurs.
B K Joshi
Dr Bhupendra Kumar Joshi, ex Vice Chancellor Kumaon University, Chairman Fourth State Finance Commission, Government of Uttarakhand, is a Founding Trustee since 2009.
After completing his Masters from Allahabad, BK Joshi did his doctorate from the University of Hawaii, USA (Ph.D Pol Sc) and was a Professor at the same University from 1963-1979.
His illustrious career in education included the following:
Professor and Director, Giri Institute of Development Studies, Lucknow (1980-1996)
Vice Chancellor, Kumaun University, Nainital (1996-1998)
Independent consultant on Primary Education and Participatory Approaches with Save the Children-UK in South & Central Asia (Uzbekistan & Tajikistan), UNICEF in Uzbekistan and Kyrgyzstan, Serbia & Macedonia (1998-2006)
Dr BK Joshi is also Founder Honorary Director, Doon Library & Research Centre, Dehradun (2006-Continuing) and Member of Policy Planning Group, Uttarakhand.
Aditi P Kaur
Aditi started out with a career in Hotel Management which she left to join the social sector more than 15 years ago. She worked at Shri Bhuveneshwari Mahila Ashram in Tehri ,Uttarakhand where she got her experience in working for the community. In 2003 she was one of the founding members of the Mountain Children's Foundation that works with children and focuses on child participation and child rights in the state of Uttarakhand. She is also the Director of CHILDLINE an emergency helpline for children in Dehradun.
Shivani Anand
Shivani, a lawyer, an alumnus of The Welham Girls' School and current President of the Welham Girls Alumni Association, graduated from Lady Shree Ram College with a degree in philosophy. Through her work with constituencies and alumni she has worked with, Shivani has combined her skills as a strategist, entrepreneur and lawyer and created platforms for empowering women across all spheres. Shivani gained diverse experiences working with the renowned film maker Deepa Mehta, with advertising agencies, an export firm and later set up her own firm 'Tiger Lily' for providing trend setting design solutions at affordable prices.
Most recently Shivani has worked as Election Strategist for Member of Parliament Diya Kumari -Rajsamand Rajasthan in 2013 in the Sawai Madhopur constituency. She was part of the team for the 2019 Member of Parliament elections in Rajsamand. She was also involved with the breaking down and study of the Bills passed by Parliament on behalf of the candidate.
Vibha Puri Das
Vibha Puri Das completed her stint of 37 years with government, in December,2013, having worked as Secretary Government of India, for over 4 years, in the Ministries of Human Resource Development, and Tribal Affairs. She also served as District Magistrate and Collector Dehradun in the years 1987-89. Vibha served in diverse assignments with distinction, both in the state and Union government after graduating from Political Science from Jawahar Lal University.
Vibha Puri Das is a life member of the INTACH, IIPA, member of the India Habitat Centre, and Nehru Memorial Museum and Library, and has served as member of the Grass Root Innovation Augmentation Network (GIAN), northern chapter. She has an abiding interest in social justice issues. She has worked with and alongside multilateral agencies, on issues of child labour, food safety, human rights for underprivileged.
She works as Electricity Ombudsman, an appellate body for grievance redress in Uttarakhand. She is presently associated with development organisations in Dehradun and elsewhere in different capacities, eg. Himmothan Pariyojana, Latika Roy Foundation, Sustainable Development Forum, Uttarakhand, the Bhasha Trust, Vadodara, and Aide et Action, France.
Meena Rajbir Singh
Meena is an educationist who co-founded the 'Play House Schools' with her sisters in Delhi and Cochin. Artistically inclined, Meena is a Consultant with FabIndia. Compassionate and empathetic by nature, she volunteered for 8 years with the Spastic Society and with Mother Teresa in Kolkata teaching English to novitiate nuns.
Aasraa's Advisory Board Members
Dr Uma Tuli, Founder and Managing Trustee, Amar Jyoti Charitable Trust, New Delhi
Mrs Padmini Sambasivam, Principal, Shiv Nadar School, Dehradun
Amrit Burett
Mr Uday Pasricha, Founder Promoter, Intellectual Properties Int. Pvt. Ltd., Mumbai
Mrs Sonia Bhandari, Director, Padmini VNA Mechatronics Pvt. Ltd., New Delhi
Mrs Mandira Rana, Partner, G2020 Advisors Pte. Ltd., Singapore