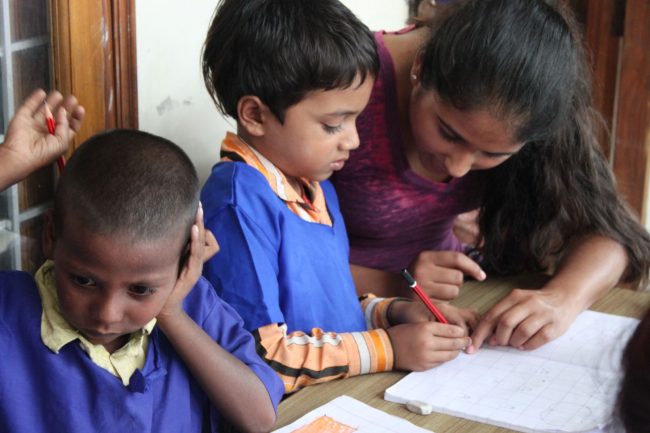 By Kaveri Bhargava
"I'm back!" I thought as I walked into the room to talk to Shaila Auntie. This time was going to be different. This time I was about to take it up a level and dive into a whole different journey a year later. This year, I was assigned to Haven, the second step for children in the anti-begging program before being transferred to actual schools. I was excited to see how the kids were doing and how this program would be different from the anti-begging program in which I volunteered last year. I was walking in with new hopes and new goals that I wished to accomplish during my time at Aasraa this year.
After my meeting we headed straight to the Haven building where I was greeted by many smiles and "namaste ma'ms" from the students. We walked through each of the classrooms seeing what kind of innovative learning was going on throughout. When we got to the second floor, we saw an impressive computer room and a wonderful music room. I was excited to be assigned as a volunteer in the computer room and English room. Soon the children arrived and filed in a straight line, I was eager to see the new faces and get to know these kids. The computer instructor showed me their curriculum, and I dove right in. The kids were learning shapes and colors that day using the painting application on the desktop (which they all loved) to make different shapes and then advance to colors. We started out with a triangle and showed them how this was like the roof of a hut (that they constantly drew). Then we drew circles and rectangles, and I taught them the name of each shape as they drew. We had a lot of fun combining shapes and figures, and a few days later I was delighted to see the kids repeat names of these shapes. Two of the kids I worked with, Mansi and Muskan, really latched on to me and we talked a lot about their life outside the classroom. They both come from very poor families and their parents could not afford to send them to school. They love coming to the Haven, and I could see their keen desire to learn and advance in the school. The next day I actually went to visit their bus stop near where they lived and got to meet many of the parents and children. When I talked to the teachers at Haven, they told me how new parents would come here with their children every day since they saw others in their community sending their kids to school. It was such an eye-opening experience which showed me how these kids, who did not have much, still have an endless passion to learn.
My week at Aasraa was filled with wonderful interactions with these street kids and the dedicated teachers who work with them. As I think back at my experience, I cannot help but wonder about the lives of kids who live on the streets of Dehradun, and all the economic disparities that affect the lives of children around the world. I am inspired by the work being done by Aasraa to change the lives of these kids, through education, and I am grateful to have played a small part in that effort. I also look forward to spread awareness of Aasraa in my own community to give more insight to others who may not be aware of the cause. I plan to put up a poster about Aasraa and a donation box at my Arangetram to promote awareness and encourage people to donate so we can help more children in need of education. I am also looking forward to my next trip to Aasraa!