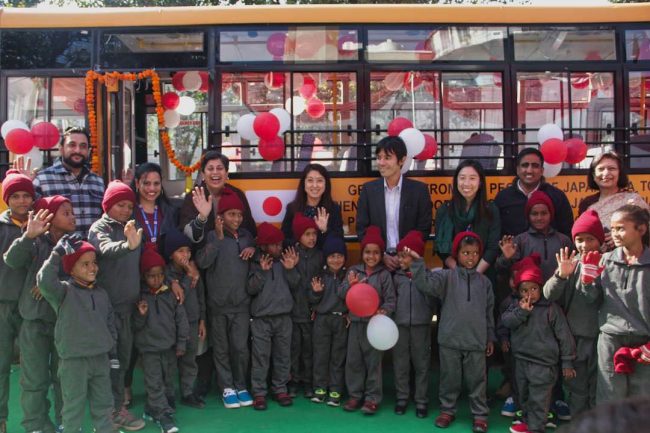 9 December 2022, Friday: The handover ceremony of "The Project for the provision of Mobile Learning Bus, Dehradun, Uttarakhand" under the GGP scheme of the Government of Japan, was held on December 8, 2022, in Dehradun, Uttarakhand.
The ceremony was attended by Ms. Hokugo Kyoko, Minister (Economic and Development), Mr. Nishi Ryuhei, First Secretary, Ms. Aota Yuka, Economic Cooperation assistant GGP, Embassy of Japan in India, Ms. Divya Anthony, GGP Project Coordinator, from the Embassy of Japan in India, Mr. Aftab Seth, Former Ambassador to Japan, Mr. Banshidhar Tiwari, Director General – Education, Uttarakhand, Ms. Shaila Brijnath, Chairperson, Aasraa Trust and Mrs. Neelu Khanna, Secretary , Aasraa Trust.
The Grant Assistance for Grassroots Project scheme was established in 1989 to meet diverse basic human needs in developing countries. The Government of Japan has supported India's grassroots projects in various fields through the scheme, such as construction of school buildings, vocational centers, check dams, provision of medical equipment and so on.
This project, which amounts to approximately 6.53 million Japanese Yen, supports the provision of two remodeled buses equipped with devices facilitating education to AASRAA Trust, Dehradun, Uttarakhand. This project aims to provide basic education and commuting services to children living in nine slum areas as well as computer classes to students of schools without sufficient computer facilities in Dehradun.
AASRAA Trust is a Non-Profit Organization established in 2009 and specialized in education provision to children, such as providing basic education and vocational training (especially computer skills) to children living on streets, unprivileged kids and children who dropped out of schools.
This project will contribute to improving learning environments and ensure that children who miss learning opportunities in Dehradun, Uttarakhand, can access basic education and computer education.
The Government of Japan hopes that these projects will contribute to improving access to learning opportunities for children in the project area. This year marks the 70th anniversary of the establishment of diplomatic relations between our two countries. On this auspicious occasion, we will further develop the friendly and cooperative relationship between Japan and India.