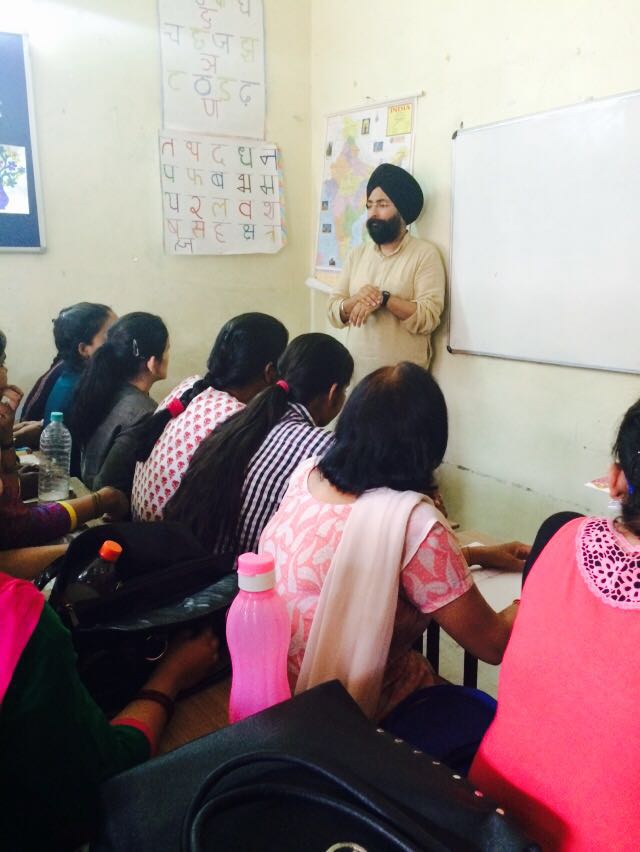 He has the brightest most curious eyes. His ideas flow at the speed of light.  He speaks like a meditating monk about his love for teaching and pedagogy.  Meet Harwant Sir-teacher par excellence!
Principal of one of Dehradun's best CBSE School's -PYDS Learning Academy, Harwant Sir very kindly offered to help us create a systematic learning & teaching plan for various learning levels across our projects. Needless to say, this is a tall order!  This learning plan includes remedial classes for English & Maths. These are two of the trickiest subjects that our children need conceptual clarity in.
Along with Aasraa's teacher training faculty, Harwant Sir has tireless dedicated his Saturdays, holidays and long internet hours in the past few months to brainstorming sessions, endless discussions, creating learning plans and training our teachers in the art of teaching!
Jolly Phonics and Jodo Gyan kits are now a familiar terms that our teacher have acquainted themselves with.  They are learning new effective ways of teaching and connecting with the children.
Harwant Sir quite simply has mastered the art of simplifying tasks at hand. He thrives on discussions, makes you do your own thinking (no readymade answers, no shortcuts!). A self-professed workaholic, Harwant Sir encourages ' do it yourself' behavior, he is a solution seeker and do gooder. We are so lucky to have someone like him batting for Team Aasraa! No thank you's will be enough, Sir!
Deeksha Pradhan