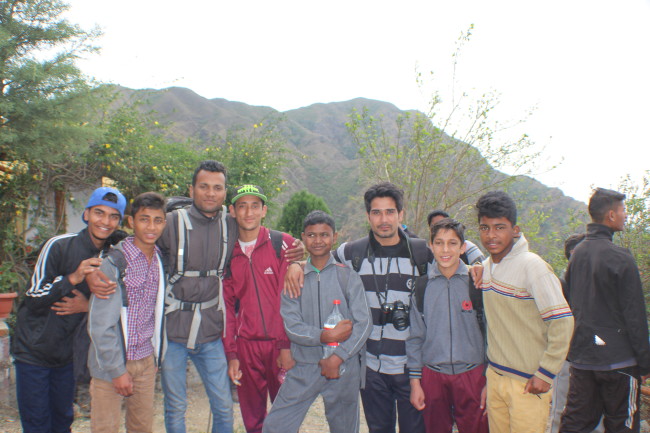 Fresh air, green covers, cool breeze and ADVENTURE! These four words were enough to get the children excited for an expedition we had been planning for months. Late night studying and final exams were finally over and a much required break was in order. Our research took us to Viratkhai near Chakrata and the breath taking pictures online helped us decide our destination.
62 children (56 boys & 6 girls) accompanied by 8 staff members were finalized for the trip.  These included 15 students from Rajkiya Purva Madhyamik Vidhayalaya, Rajpur Road who will join our boy's hostel shortly. Rajkiya Purva Madhyamik Vidhayalaya is a Government residential school upto class 8 which is supported by Aasraa Trust. Every year, their students join Aasraa's hostel to continue their education from class 9 onwards. Most students come from a background that is not conducive to pursue education. They are orphans, from broken homes, runaways, or from very poor families.
The excitement on D-day was electric. As Jo Chopra, Chairman, Latika Roy Foundation, put it, "I saw them heading out this morning in two buses and if we could take all the energy and excitement that surrounded both vehicles and bottle it, we could light up the whole country."
Within 2 hours of leaving Dehradun, we were greeted by hills and a slight head spin! Narrow roads, smiling sun burnt faces, rhododendron flowers (burans, state flower of Uttarakhand) and a herd of goats became a regular feature. 'Antakshari' had quietened down by then and the kids just wanted to catch a glimpse of the snake like roads that were being behind. The higher we went into the mountains, the more sighs were audible.
We reached our campsite by lunch and after a warm welcome by our hosts, the children were allotted their tents. New with the old, younger with the older, taller with the shorter! The next few days went by in a flash. The children participated in activities like trekking, mountain climbing, rappling, river crossing, kayaking, rafting, valley crossing, zumaring, bonfire and talent night among others.
Highlights:
Nikita (Physically challenged, lost her left foot to a fire accident at age 5) scaled 'Tiger Hill' (7,500 feet, 2 hour nonstop trek) without any complaints despite the reservations of many
Deepak, anyone familiar with Aasraa is no stranger to Deepak. Deepak is an abandoned deaf and mute child. But he is so much more than that. He is the most enthusiastic, intelligent, bright and a fearless child. He took part in all the activities and often outdid the older boys. He remained fearless while doing all the activities
Team Work: While trekking, each participant looked out for their partners. Someone held others backpacks, some lend a helping hand during the steep climb and some lend an ear to the groans. Everyone was there for one another. We made it to the top of the hill as a TEAM
100% success rate for all activities- every child participated, every child overcame their fears
OUR GRATEFUL AND HEARTFELT THANKS TO OUR DONORS & GIO ADVENTURES for making this trip possible. The challenges faced by the children during the activities brought them together as an effective team and revealed different facets of the children personality that are hard to identify in everyday life. This trip has helped the children thrive outside of school.
Deeksha Pradhan