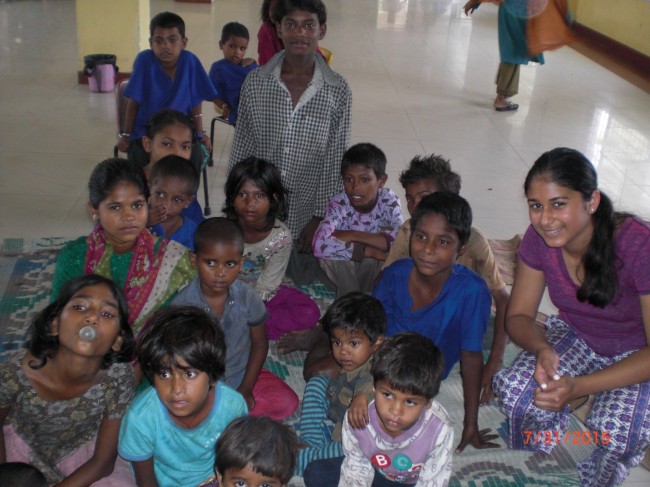 It was summer vacation in my school and I had to come to Dehradun, from my hometown of Boston in the United States to visit my grandparents and family. My grandparents had helped to build a shelter for homeless people in Dehradun called Rein Basera. In the mornings, they had a program at the shelter called Street Smart. In past summers I had visited the shelter and only had a glimpse at the hands-on program. But, this time I decided to do something more. I decided to volunteer in the program for a week!
The day before I came to volunteer, I admit, I was a bit nervous but I was also really excited to try out this new experience. Soon after I walked through that door on Monday morning, my first day jitters disappeared as I met the welcoming group at Street Smart. The first person who greeted me was Mrs. Naureen Khan who was very kind and introduced me to a few other teachers. She then showed me the group that I would be teaching for the week. I was a bit nervous and shy starting out at first but my mother along with the kids and teachers helped give a little push to get started. When I walked to the table for the first time, the first person who greeted me could almost pass off as a teacher but was not one; she was the maid of one of the teachers who worked at a nearby school and had come to learn math. In English she said "Come sit down, be comfortable." I was surprised to hear her speaking English! Soon I saw that she needed help in math and I was happy to help her out. As I got more comfortable I was able to go around and help more kids.
On the second day I taught many kids their alphabet, numbers and more. I even got to help a young boy with his multiple digit multiplication! Then on the second day I was happy to help out in the computer classroom teaching the older kids how to write sentences in English on the computer. First, they had to write their names and how old they were. After they had done this, I got to teach them how to type " My mother's name is…" and " My father's name is…" Being in the computer room with the kids was a wonderful experience which helped me get to know them more. After this, they went on to do computer art in which they made different shapes and landscapes (I later found out this was one of the favorite activities).  Later on, I also got to help some of the older kids in writing sentences in English and Hindi. I found that some of the kids were very strong in math and I could do grouping, multiplication, and long division with them. They were also very artistic and I could draw a number of ice creams and make them count and color the ice creams for a fun and educational way to learn counting. I learned that using drawings really helped the kids learn, especially for one girl who could not hear or speak. I got to bond with all of these children and learn more about them as they learned from me.
It was an amazing experience working with them and I feel so fortunate that I got this opportunity to help others and teach. Teaching these kids has taught me the value of education, how education is so important to our community and how, as Nelson Mandela said, "Education is the most powerful weapon we can use to change the world."
Kaveri Bhargava