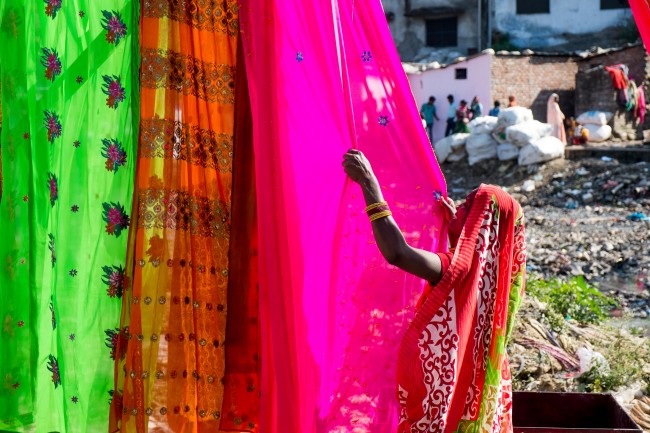 I have crossed the Bindal bridge a million times but never during a festival. What does a celebration under the bridge look like? We decided to go down the small bumpy hill to see Bindal during  Chhatt celebrations ( festival dedicated to Sun God). We cross the running stream with a jump. The life of Bindal suddenly engulfs us.
The sight is ghastly. Colorful plastic polybags line the dirty riverbed valley. Piglets and human babies cry side by side. A family of ducks crosses the only running water stream with expertise. Chickens run around pecking on filth occasionally. An old woman takes a long beedi drag and leaves a long snake like trail of smoke. A group of men sit in a circle engaged in an animated discussion. They are playing cards. Tempers fly. Cuss words are tossed around casually.
As we slowly progress into the heart of the slum, sights begin to change. Women & children dressed in their finest, 10 rupee bindi sitting firmly on the new brides' forehead, matching bangles, new angry bird sweatshirt for the only boy amongst four sisters. The smell of filth is taken over by the heaviness of fried fish curry. Music blares out of loudspeakers… "Tu Lagavelu jub lipisstikk…." Teenaged boys and older men gather to dance. Women watch shyly from their ghunggats, eyes sparkling and giggles escaping their freshly painted lips.
It is nearly impossible to recognize the kids who study at our mobile learning centers. They are clean and well dressed. The valley is erupting into a party scene. Celebrations mark every corner of the slum. We are invited into numerous houses to eat fish and are promptly handed a bag of fruits and Chhatt Maharani's Prasad at every corner. The celebration is grand,  poeple probably spend most of their earnings during this festival.
A small shack owner invites us in, camera crew in tow. The group is merry making- drinking rum and eating fish. But somehow, the drunks make perfect sense through their slurred speech. "Madam, don't click our pictures or interview us. We don't want to say anything in this inebriated state that will bring us shame later." But we continue talking. We talk about life and education. They recognize the importance of education. They want their children to be doctors, engineers and pilots. They want the opportunity to thrive. They want to lead respectable lives.
What happened next will stay with me for a long time. One of them asked one of our young team members…What do you want to be when you grow up? Police officer came the answer. Pat came a reply, when you become a police officer babu, please don't attack us like we are animals. We are humans too. We want to be treated as such.
Education is not just literacy. Education is learning about life. Education teaches us to love and respect others as equals. Education teaches us to accept differences. Education should break barriers… Education should bring us together.
Deeksha Pradhan
Picture credits: Geet Sharma