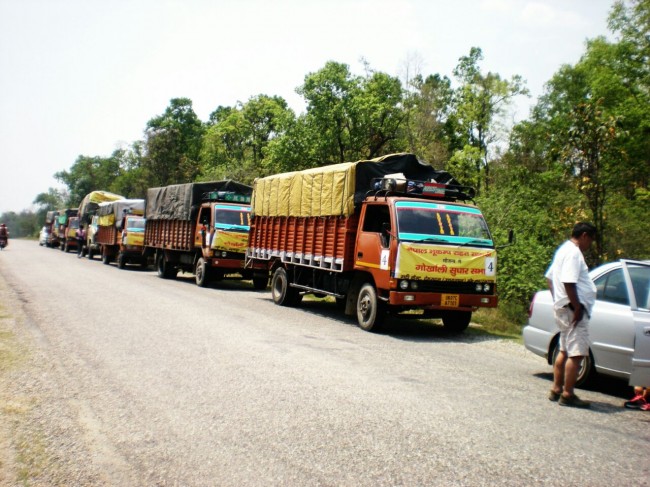 On the 11th of May, a global and wonderful collaboration of caring and concerned people got together to bring relief to hundreds of survivors of Nepal's earthquake. The Gorkhali Sudhar Sabha, Welham's Girls School, AshaJyothi and Aasraa Trust reached out to friends and family and raised over INR 10 lakhs in 3 days; bought and packaged aid packages over two nights, ordered tents and sleeping mats.
15th of May, 300 Canvas tents, 300 food parcels, 1800 sleeping mats and medical supplies were loaded onto a six truck convoy. A team from the Gorkhali society led by Lt Gen Pradhan and Col. Chhetri worked into the early hours of the morning ensuring absolutely precise and correct packing lists for both customs and distribution at field level.
16th of May, the convoy left Dehradun, in the sure and safe hands of Sanjay Mall and Brig. Gurung and started its journey to the hardest hit region of Nepal, Gorkha
17th of May, the convoy cleared customs and crossed the border into Nepal at Banbasa. Here it was joined by Nepali Gorkha guards to escort the convoy safely through dangerous roads littered with debris from the quake and unscrupulous profiteers.
18th of May, the convoy reached Kathmandu at 22.00
19th of May, two trucks headed for Mathew of Khusi Hona for helicopter lifting to remote border towns and 4 trucks heading into Sindhupul Chowk, Dolkha and Baglung
20th of May, supplies reach areas of Nepal desperate for attention. Matthew's helicopters are not only taking in essential items for survival but also evacuating the most serious medical cases. Excess floor mats are consigned to massive mobile education tents doubling as community centers for displaced people.
21st of May, balance of relief aid is distributed by Nepali army in devasted towns and villages of Gorka.
An enormous thank you to everyone for their dedication and selfless service in raising the money for these supplies, for their time and effort for personally packing the parcels, to loading the vans, driving through hazardous conditions to deliver it and to those on the ground who made sure that the people who need it most were reached.
It has been a pleasure to work with such a team. Thank you.
Shaila Brijnath
Chairman, Aasraa Trust