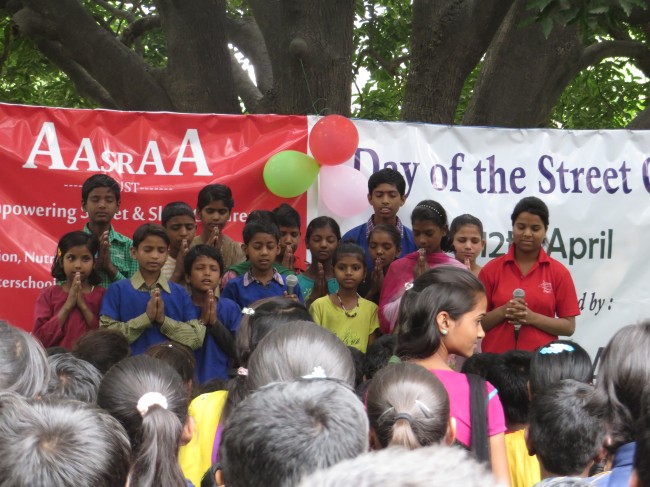 v
12th April at Gandhi Park, Dehradun:
Aasraa Trust Celebrates the International Day for Street Children
For the 2nd year running Aasraa Trust gathered over 300 street, slum and underprivileged children to join together with the public to celebrate this important day.
The children from Aasraa trust participated in a fun filled programme for visitors & guests at Gandhi Park. With memorable performances from Suresh reciting the poem 'Ganga' with expressive movement by Ritik, Sanjna & Rohit, a beautiful dance choreographed to the title song 'Taare Za Meen Par', an enchanting song by Anjali, articulate Hindi/English Narration by Varsha & to top it all of a finale of free dance inclusive of all children.  Thoroughly enjoyable for all involved!
Aasraa's Founding Director, Shaila Brijnath, graciously thanked visitors, guests and children for their support and participation. A special thanks to District Administration; NIOS; Doon Shelter Society; doctors and hospitals that have consistently given free medical care for the children, the leading day & residential schools of Doon that have supported Aasraa; donors and volunteers.
International Day of the Street Child provides a platform for the millions of street children around the world to speak out so that their rights cannot be ignored. The Consortium for Street Children, who are a global network that raises street children's voice and promotes their rights to improve their lives initiated the day to petition the UN to declare April 12thas the International Day for Street Children.
This year the main theme for the Day will be a celebration of the United Nations agreeing to develop a General Comment on Children in Street Situations and the positive impact it will have on street children and the organisations that support them.
Aasraa Trust has been working with street children throughout Doon for the past 6 years, there are now over 700 hundred children reached through their varying educational programmes.
The organization has  crafted a cyclical approach, first reaching out to children in the slums and on the streets through their outreach programs, where classes are conducted within the neighborhoods, they then graduate to a bridge education program and once the children achieve an elementary level, Aasraa helps to mainstream them into formal schools by providing scholarships that pay their school fees, living & medical expenses. Children above the age of 14 are also eligible for their vocational training programme along with NIOS. They also provide residential facilities for the children in need of shelter, in addition to this nourishment and medical aid is provided across all their projects. Aasraa Trust latest initiative is working towards creating sustainable livelihoods for their beneficiaries.
Aasraa Trust is the 1st organization working with street children to receive accreditation as an examination centre of the National Institute of Open Schooling (NIOS). This will benefit the street children age barred from entering main stream schools as well as the children wishing to achieve academic status alongside their vocational skills training.