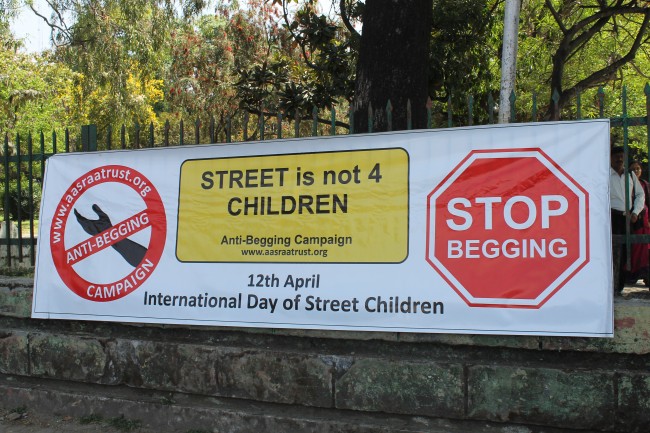 Aasraa Trust observed the International Day for Street Children at Gandhi Park in Doon, today.
The trust involved over 250 street children in the one hour program and made the day special for them. Mr.Ajay Setiya, Chairperson, State Commission for Protection of Child Rights, Uttarakhand, a special invitee, confirmed all street children would be given 'adhaar cards'.
The children who have been a part of Aasraa Trust put up a show for the visitors and guests the highlights were the play 'Hum Bhi Hain' conceptualized by Neelu Khanna. The recitation of the poem 'Kitabein' by Suresh was well appreciated. The programme ended with the audience joining the children in an impromptu dance to the beats of 'Jai Ho'.
A vote of thanks was presented by Shaila Brijnath in which she thanked the District Administration, Mr.Ajay Setiya, Chairperson, State Commission for Protection of Child Rights, Uttarakhand, Plan India, SBMA for lending their support for the event; NIOS Director, Mr.P Rawat; Doon Shelter Society; doctors and hospitals Sakya, Indresh & Doon,  that have consistently given free medical care for the children, the leading day & residential schools of Doon that have supported Aasraa; donors and volunteers.
International Day for street children gives children a platform to speak about the issues that affect them. The Consortium for Street Children is a global network that raises street children's voice, promotes their rights and improves their lives. CSC is currently seeking support for International Day for Street children to be adopted by the United Nations. It may be noted that it is the fourth year that this is being celebrated. In 2013, 132 countries took part on the day.
Aasraa Trust, established 2009, with over 500 children, works for the education and empowerment of street & slum children. The organization crafted a cyclical approach, first reaching out to children in the slums through their outreach programs. Classes are conducted within the neighborhoods and once the children achieve an elementary level, Aasraa helps to mainstream them into formal schools by providing scholarships that pay their school fees and living costs. Children above the age of 14 are also taught block printing & sewing.
Aasraa Trust is the 1st organization working with street children to receive accreditation as an examination centre of the National Institute of Open Schooling (NIOS). This will benefit the street children age barred from entering main stream schools.
The International Day for Street Children in Dehradun is being supported by Plan India and SBMA.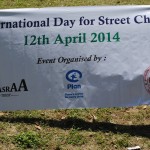 SBMA is an independent organization that works with the people of Uttarakand Himalayas.  It works on a simple mission of 'Happy child'.
"Plan India is an Indian NGO working to improve the lives of disadvantaged children, their families and communities through an approach that puts children at the centre of community development. Plan India helps lasting improvement to the lives of vulnerable children and their communities. It also helps girls overcome the disadvantages and discrimination they face. We are committed to the principles of child rights and equality," explained," said Suresh Balodi, StateManager, Uttarakhand, Plan India.
Present on the occasion were Meena Rajbir Singh, Director NIOS Mr.Rawat, Deputy Director, Sandhya Kumar, Anita Sehgal, Hopetown School, Ranjit & Veena Sikund, Ms.Meenakshi Gandotra, Principal, Jaswant Modern, as well as students of Olympus High School, St.Joesph's Academy, Patrician College & Jaswant Modern School.