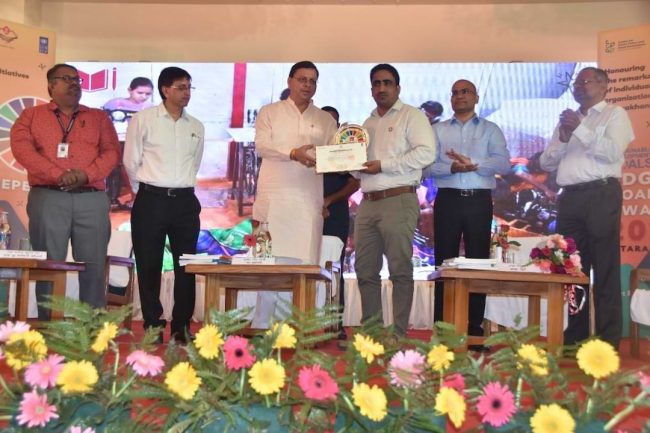 11 June 2022 |Dehradun: Aasraa Trust was awarded the SDG (Sustainable Development Goals) Goalkeeper Award 2021 on 10th June 2022. It was one of the 27 organizations & individuals to receive the prestigious award by Honourable Chief Minister of Uttarakhand, Shri Pushkar Singh Dhami. "It is a huge honour for the entire team of Aasraa to receive this award. We thank all our supporters and well-wishers for helping us get here. We are immensely grateful to have this recognition. It has energized us further to carry on the mission of providing underserved children with quality education," said the CEO of Aasraa Trust, Mr. Amit Balodi.
Centre for Public Policy and Good Governance (CPPGG), department of Planning, Government of Uttarakhand in collaboration with UNDP organized Uttarakhand's SDG Goalkeeper Award. The award aims to identify and recognise the remarkable initiatives of various individuals and organizations in Uttarakhand. The Sustainable Development Goals are a universal set of 17 goals set by the United General Assembly and adopted by 193 countries in 2015. This global development vision is a plan of action for people, the planet and prosperity with the motto of 'Leave No one behind'and declare them as 'SDG Goalkeepers'.
Aasraa Trust, established in 2009, was given the award for their innovative, sustainable and replicable model of education. Aasraa Trust partners with the Government of Uttarakhand to enhance the quality of education at 9 Government Schools. These schools have transformed into centres of excellence benefitting 1500 children from underserved communities.