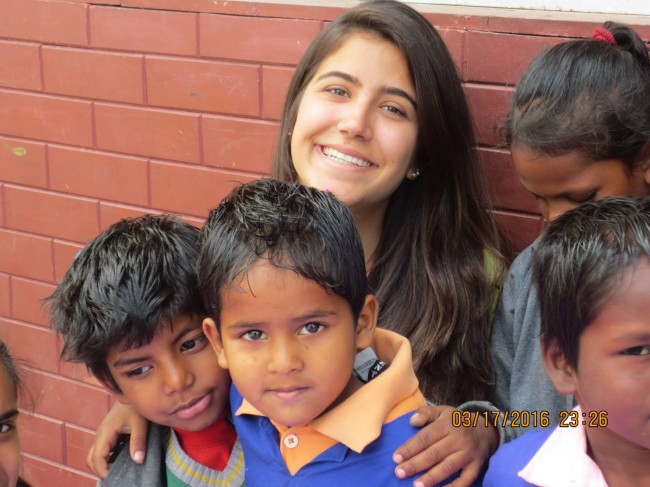 In the end, you come to leave but never go back home as the same person that left, I mean never.  What I have here, I can never find in any other place and I know this even before I leave.
People say that eyes are the doors of the soul but here eyes are much more than that. I dive and swim in the black sea of each one of these eyes. It is unexplainable how each one of your eyes talk- it screams, asks and exclaims! It gets inside the soul of person that is looking and touches them in a way it is impossible to forget. I will never forget them…
When I left home to get on to a plane to come to India, I said to myself- you are going to a new place to volunteer, do your best, but I never knew what to expect or what awaited me.  In reality, there is no place like India,  NO PLACE.  I felt so complete every day because you guys were around me.  But I know it will not be like this always. Soon you guys will grow up and follow your own dreams and I think this is why it is so difficult to say goodbye. But you will always live in my memories. To say the truth, no matter where I'm, who I'm with or what I'm doing I will remember each smile, each action and mostly the eyes.
I don't know what energy has brought us together.  Each one of you so unique, each having a different story, a different history and different experience in life. Some call it destiny, others call it God or some say Karma. Actually, it doesn't matter which God brought us together here, I'm ever thankful for this moment. Thankful for what I learnt, thankful for the friends I made and for the meaning it brings to my life.
Some of you I may see again, some of you I may not. But what matters is wherever you are, I will be sending positive energy every day to make you better people. Even if you take bad decision in life, always remember that it was a bad moment and don't let it change who you really are: a person that cares for others and tries to help them.  At least this is what I saw here, good people that deserve the best.
Be the best versions of yourselves every day. It is not the easiest thing to follow but it will bring you immense happiness and success.
I bless you and I believe in you.
With lots of love and care
Ana Paulo Jacintho
Sao Paulo, Brazil