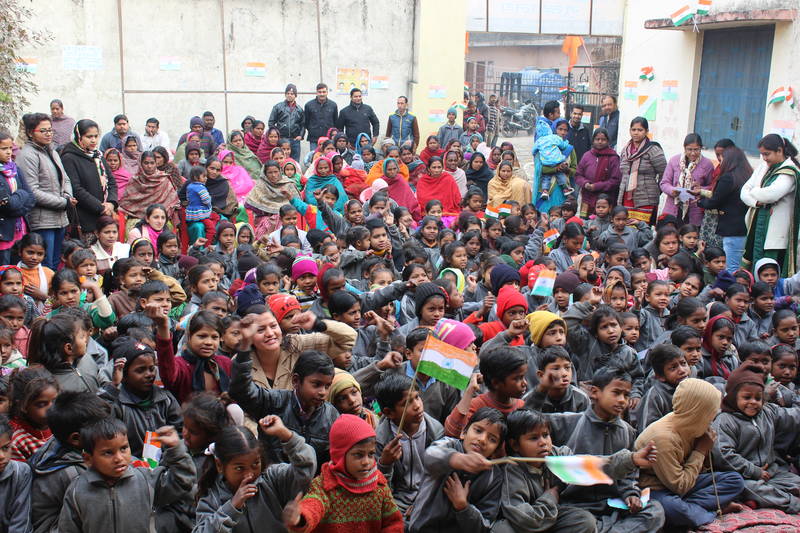 India celebrated her 67th Republic Day on 26th January 2016. Joining the nation in the celebration was Aasraa Trust with over 200 children, teachers and slum community members of the Govindgarh area in Dehradun. Govindgarh is the heart of the 'basti' community where our street & slum children reside.
Aasraa Trust runs four important programs in this area- which includes 2 Street Smart programs to initiate children into basic literacy and two After School programs for mainstremed children. Our Outreach Team start their community outreach every morning from this area. They interact with family members and reltives regarding the importance of education and strenghten their relationship in the community. They collect children and bring them into our learning centres. This is the first step of a child's journey into joining mainstream school. At this stage, we prepare children to be a part of a classroom enviornment. We focus on hygiene lessons, grooming, poems, sing alongs, story telling, music, art & craft and playing games.
Besdies initiation into education, Aasraa runs After school projects in the area to provide concept and homework support to children who attend local schools.
Community based events are of great importance as they allow us to meet and interact with families and opinion makers of the community. Parents, grandparents, children, siblings, teachers and staff members get a platform to meet and greet, showcase talent, address important issues during such a gathering.
This Republic Day program included flag hoisting, speeches made by children and teachers, singing patriotic songs and distribution of laddoos and other refreshments. Message of peace, harmony, unity,cleanliness and importance of education were the highlights of the event.
Through efforts like these, we hope to bring the community closer, influence opinions and bring in more children in need of love, care, opportunity and education into the Aasraa fold.
Deeksha Pradhan