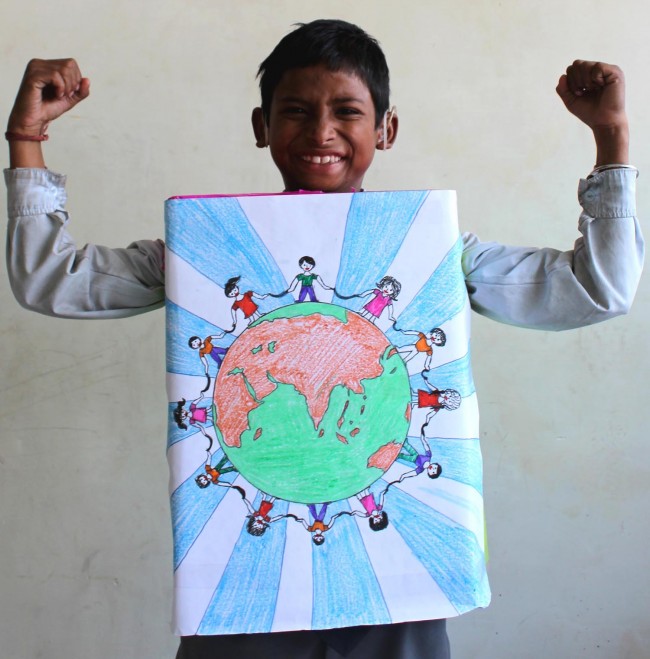 Look at his infectious smile. Look at those bunny teeth shining through. Look at those monkey ears. Feel his boundless energy.  It is hard to believe that this child was abandoned by his parents, twice.  Also, he is deaf and mute.
He takes only a few seconds to make friends. It is like you have known him forever. I think he knows the effect of his 400 watt smiles. He will whoosh in a room, flash those pearly whites up to his eyes and win your heart!
This kid is very smart. He has taken to technology like a fish takes to water. Mobile phones, computers tablets are toys for this eight year old. Every new person that meets Deepak wants to take him home. That is literally what they will tell you- "Let me take him home." Then someone will chime in, "He is not going anywhere, we have to share him!"
I cannot imagine what kind of parents would leave a physically challenged 6 year old alone in the middle of the market to fend for himself? What could be their reason to do it again three months later? Where are they now?  Why couldn't we trace them after extensive counseling the first time around? God knows who will answer these questions for us.
We couldn't have left this child on his own, he is God's child. And like I said, everyone wants to take him home. So, we brought him home.
He may have become this confident, inquisitive child with a lot of life in him but that wasn't always the case. When he first came to Aasraa, he was scared, aggressive, and had to be physically bound sometimes to stop the violence. He was confused about where his parents were. He couldn't hear us and we had trouble understanding him. All that seems like a thing of past…
Today, Deepak goes to a full time special school for deaf and mute children. He visits a speech therapist regularly, he is a pro at counter-strike and dances like mini Hrithik Roshan. He has had a tete – a – tete with Dr. APJ Abdul Kalam and has shook hands with Duchess of Cornwall, Camilla Parker Bowles.
As he moves from strength to strength, issues of abandonment may take a while to leave him. He once hitch hiked his way back to the hostel after the school van was late by few minutes. But at least now he knows his way back home to us…
 Deeksha Pradhan