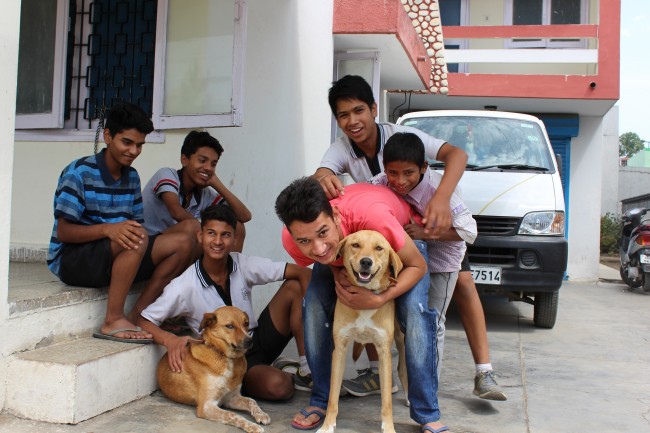 Summer holidays are almost over… yes…it is the end of a dreamy summer the children had been waiting for all year! As our children pack their bags to come back to school life again, let's take a look at the summer that was…
While most of the kids did make their way home, there were some that were left behind. Some did not have a home to go back to; some just like it better in the hostel.
So when summers are meant for fun, why would our kids be left behind? The month was packed with exciting activities to keep the holidays enjoyable!
Seven children from Aasraa Trust, who are students of Olympus High School, attended a 'Summer Camp' organized by their school. The summer camp offered a wide range of activities which included music, dance, swimming, cricket and basketball. Our boys participated in the camp with full gusto! Their mornings started with camp activities and homework sessions while the evenings were spent around computers, spoken English classes, board games and fighting for the TV remote; much like any other home J
This month there was also a flurry of volunteer activity at Aasraa. Evenings at Rajkiya Purva Madhyamik Vidyalaya (Government School & residential facility fully supported by Aasraa) have become more exciting since our volunteers Rishab, Arushi and Alamas have joined us. Post lunch time is filled with football, skipping, shuttle cocks flying around, art work, story-telling sessions singing and dancing.
A three day karate workshop called 'Stay Safe'– a basic self-defense class for the girls at PMV was also organized this month.  Bhairavi Tandon (3 Dan black belt) & Karishma Dhingra (1 Dan black belt), Class 12 students of Welham Girls were the brains behind this initiative. Karate chops and flying kicks are a regular sight on the playgrounds now.
Thank  you  Rishab, Arushi, Alamas, Bhairavi & Karishma for a memorable summer!
Another enthusiastic group of our hostellers had a thrilling day at the movies! ABCD 2 was the most awaited movie of the month and boy were the kids excited! We didn't hear the end of it for many days to come. Psst…Jurrasic World is next on their wish list.
One of our senior hostellers, Govardhan is undergoing an apprenticeship at an Auto-Workshop learning the tricks of the trade. He is well known for his love for electronics and is known to pull apart machines and put them back together just for fun. This is an informal introduction to his chosen career path before he moves on to greener pastures.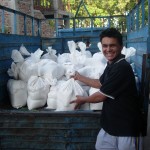 Govardhan helped pack relief material for Nepal.
Apart from all the fun and games, we also have wonderful news to share. We are welcoming the newest member of the girls hostel- Karishma to our family. Her brother Rahul has been a part of the Aasraa Family since 2011 and resides with us. After the death of their parents, this will be the first time they will live together again as a family under the care of a bigger family unit.
As we wrap up our summer story, as always, we would like to say a 'BIG THANK YOU' for all your support. It is because of your constant encouragement many small and big victories have been made possible in the lives of our children this year. After all, what good is a summer without fond memories?
Adios summer of 2015, till we meet again……