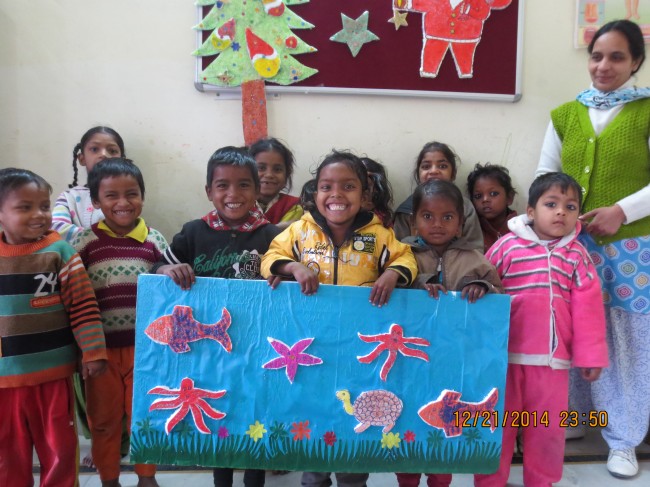 Aasraa's literacy program started more than four years ago in Dehradun's famous Astley Hall parking lot. It wasn't even a 'literacy' program then! It was about getting street children in and around Astley Hall to stop, notice and hopefully participate. The joys and struggles of the initial days have been beautifully captured in the first few blogs called the 'Street Smart' diaries.
To grab the attention of children, one has to use all tactics. There is the adult to child approach, the friendly approach, coaxing, emotional blackmail and the royal ignore! And back then, all of this was done to get them painting and chatting!
So much has changed over the last four years. 'Under the mango tree' classes have turned into proper classroom with a black-board, tables and chairs. Bare foots are now covered in snug shoes. Children who did not know how to hold a pen are going to main stream schools. Our outreach team that works tirelessly through the day trying to convince parents to send their kids to the learning centres are a happy bunch. They now see children proactively waiting on their bus routes, eagerly waiting to learn something new.
When so much as changed, we have decided to evolve the way we 'teach' as well. Slowly and steadily, we have welcomed a more structured approach to teaching. While informal way of teaching worked for us in the past, with passing time and the number of children increasing in classes; a more 'structured approach' was the need of the hour.
Our teacher's trainer, Siya Sir, has been instrumental in bringing about the changes. Our teachers are now working on weekly 'lesson plans', weekly teacher's meetings are planned to exchange information and discuss new ideas. Timely workshops are organised to bring together teachers from different centres to revise their skills and talk about best practices that can be implemented across platforms.
"Lesson planning brings about clarity of thought and streamlines the approach to teaching", points out Siya Sir. The teachers are in agreement too, they feel that lesson planning and workshops have brought about a change in the way they approach the children.
"The teacher's workshop has taught us to understand a child's perspective and learn about challenges that they face while studying", says Deepika Ramola, teacher supervisor at Shiv Sena Centre, Kanwali Road. Talking about her last big takeaway from a workshop, she quickly adds, "Associating words and letters with pictures has been a successful learning technique with the kids".
As we step into new territories and continue our learning, we would like to say a big thanks to all of those who have supported us through our journey and relentlessly backed our endeavours. Your generous donations are helping us provide essential learning tools and much more to our children, as always.
Deeksha Pradhan