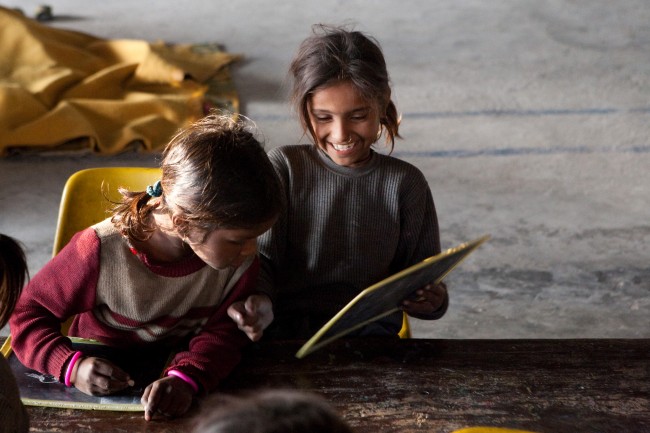 Our outreach teams are always looking for children on the streets and in the slums to bring into the Aasraa education program.
We know we are having an impact when the children come looking for us! In the last year and a half several children have come to us asking for an education. This is inspiring and keeps us more focused than ever.
Chandni, Sunita and Kalavati are making huge strides in learning. The begging bowls in their hands have been replaced with pencils.
Also denied an education, some traditional communities have not sent their daughters to school because they do not want their girls to be in the company of boys. This is a convenient excuse to keep women in ignorance; ignorant of their rights and ignorant of their ability to be independent.
Gulafsa, 16, Nagma, 13 and Sahiba, 10, have had no schooling whatsoever. They came to us over a month ago and begged us to teach them how to read and write. After much convincing and many home visits, their father allowed them to attend our afternoon outreach program… on the condition, obviously that there are no boys in their class!
Having been restricted to their home, these girls are amazing cooks. They live in cramped conditions in the riverbed. Sahiba burned her foot in the kitchen 2 weeks ago. We are still treating her burn, but she has not missed a day of school.
The first thing we taught them was how to write their names. It is the first step in establishing their individual identities and sense of self worth.
As a registered NIOS (National Institute of Open Schooling) & approved examination centre, Aasraa Trust can certify education levels as out of school children achieve literacy. This is incredibly validating for the children and makes them proud of their achievement and makes them want to carry on.
When Gulafsa, Nagma and Sahiba have daughters we hope they will allow them to be educated.